Page 2 - HKSYU Prospectus 2018-19
P. 2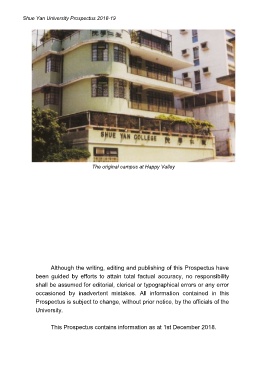 Shue Yan University Prospectus 2018-19

                                         The original campus at Happy Valley

              Although the writing, editing and publishing of this Prospectus have
      been guided by efforts to attain total factual accuracy, no responsibility
      shall be assumed for editorial, clerical or typographical errors or any error
      occasioned by inadvertent mistakes. All information contained in this
      Prospectus is subject to change, without prior notice, by the officials of the
      University.

              This Prospectus contains information as at 1st December 2018.