Faculty of Commerce
The Faculty of Commerce at Hong Kong Shue Yan University has four departments offering a total of eight undergraduate programmes, two MPhil and PhD programmes and one taught postgraduate programme. The Faculty also has four business-related research centers, dedicated to contributing to society through education and academic research, with a mission to consolidate Hong Kong's status as an international financial center, and to create favorable educational conditions for young people to improve their business intelligence. Graduates of the Faculty of Commerce have creativity and professional business knowledge, and are mostly engaged in public and private enterprises, financial services, professional accounting and law, start-ups and other industries.
The Faculty will follow the University's academic development direction of Digital Humanities, using digital technology to cultivate "smart talents" for our society who are able to work with the community to develop digital innovation and technology economy in Hong Kong.
Please browse the departments below: Department of Accounting, Department of Business Administration, Department of Economics and Finance, and Department of Law and Business.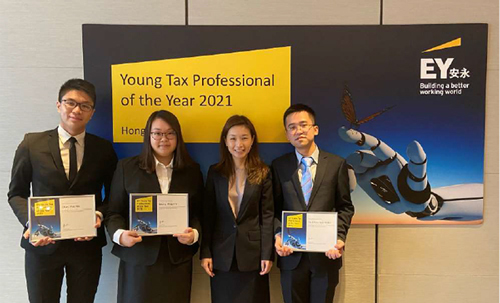 Department of Accounting
An accounting system is essential for industrial and commercial activities and for international trade and finance. The Department of Accounting at HKSYU trains competent accountants to meet the enormous demand from industry and commerce. The BCom (Honours) in Accounting is a four-year undergraduate programme emphasizes a comprehensive and integrated professional accounting training alongside a general education. With information technology and case analysis as the core, this programme offers two majors designed to enhance student competitiveness – Professional Accounting and Corporate Accounting and Finance. Our students will have the opportunity to learn from reputed professors with international teaching experience and make the most from work placement opportunities and international exchange programmes.
Department website: https://accounting.hksyu.edu/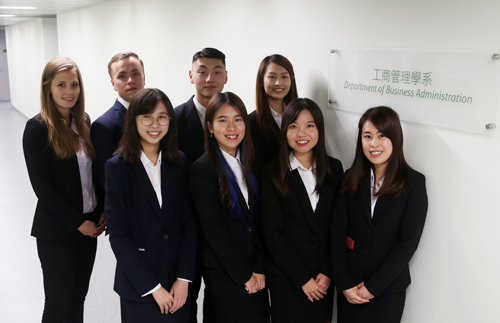 Department of Business Administration
The Department of Business Administration was established in 1971. The Bachelor of Business Administration (Honours) programme replaced the former diploma curriculum in 2003, and the department has offered a Master of Science in Marketing and Consumer Psychology since September 2013. The Department of Business Administration fosters prominent communicators and critical thinkers that understand contemporary business theories and practices and the importance of cultural diversity. Our graduates also excel at communication and information processing.
Our extensive undergraduate programmes combine 5 specific areas: liberal studies, business fundamentals, core professional subjects, interdisciplinary subjects and a wide range of elective subjects. The programmes not only enhances students' communication and critical thinking skills, but also familiarizes them with modern commercial theories and practice, data-processing skills and the ability to understand cultural differences. An emphasis is also placed on integrating traditional Chinese values with modern practices of commerce.
Department website: https://ba.hksyu.edu/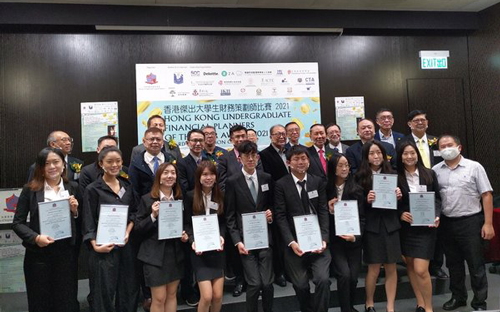 Department of Economics and Finance
The Department Economics and Finance was founded in 1977. Its Bachelor of Arts (Honours) in Economics and Finance was accredited by the Hong Kong Council for Accreditation of Academic and Vocational Qualifications in 2004, and was restructured into a four-year programme in 2009 under the name BA (Honours) in Economics and Finance. The BComm (Hons) in Financial Technology was accredited by the government in 2020 and included in the Study Subsidy Scheme for Designated Professions / Sectors (SSSDP). Local students can apply for this programme through the Joint University Programmes Admissions System (JUPAS).
The programmes aim to cultivate students with a solid understanding of economic theories and an ability to apply this knowledge in various decision-making situations. Aside from fully grasping the nuances of social sciences, graduates will become familiar with the major fields in economics and finance as well as its analytical tools and advanced technology.
Department website: https://ef.hksyu.edu/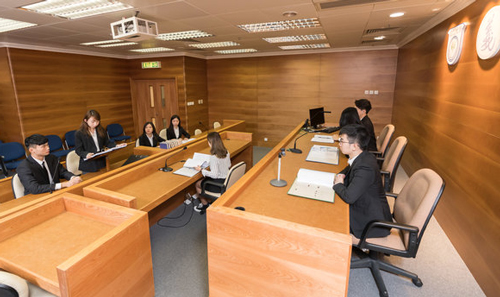 Department of Law and Business
The study of law at Shue Yan dates from 1973 as the institution once offered an Honours Diploma in Law and Business. Following the conferral of its university status in 2006, the Bachelor of Commerce (Honours) in Law and Business was launched in 2007.
The Department believes that 'Legal knowledge strengthens business intelligence'. Its B(Com) in Law and Business programme is an integrated programme that combines business and law components and enhances students' intelligence in the application of law in a wide range of businesses particularly in banking, finance, compliance and other relevant sectors. The courses taught will strengthen students' analytical skills, with mooting / internship that add fun in the course of learning.
Department website: https://lawbus.hksyu.edu/