Hong Kong Shue Yan University's 50th Anniversary
The past 50 years have seen the 1971-founded Hong Kong Shue Yan University (HKSYU) transforming from a college to a university and persistently dedicated to the mission of "cultivating virtues of benevolence" and "broadening horizons and knowledge", complemented by the spirit of inquiry-based learning. Guided by this ethos, HKSYU tirelessly nurtures and fosters socially-committed leaders dedicated to serving the country, extending the Chinese heritage of benevolence and love, and spreading kindness to the world.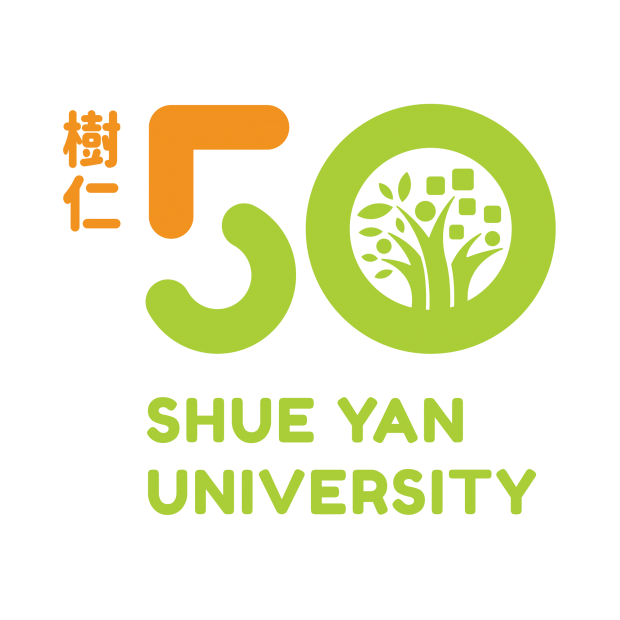 Behind HKSYU's 50th Anniversary Totem
Colour palette
>Green: A colour that connotes trees. It takes ten years to grow a tree but a hundred years to nurture a person. This bright hue mirrors our vibrant campus atmosphere and symbolises the vigorous growth of our young and aspiring students, who will one day become talented and virtuous pillars of society. The colour green implies how HKSYU nurtures and fosters talents for the country.
> Orange: The distinctive strokes in orange above the green trees represent fruitfulness. For over 50 years, HKSYU has cultivated countless kind-hearted social elites, enriching our city with new impetus and nutrients, and serving the community with benevolence for all. The orange component is rotated by 90 degrees to show that HKSYU's foundation depends on its 50-year history, holds the right values, and keeps in mind its founding mission of benevolence, constant innovation, and progress. It reflects how the institute seizes every opportunity to help build a better society.
Typeface
Sans Serif is a contemporary manifesto of passing on the humanistic spirit to future generations. The rounded strokes evoke benevolence, love, and generosity. They also represent respect for all people, gratitude, generosity, and honesty. The thick lines represent the profound foundation of our education - it paves the way for our students to govern their school and serve society in the future.
Circular Interior
Students, like seedlings, learn and grow happily in the cradle of HKSYU into full-fledged trees that will bring fruits to their country. The concept of "Shue Yan" came from a legendary line from Guan Zi: Quanxiu (On the Cultivation of Political Power): "Plan a year the way you grow crops. Plan for a decade the way you grow a tree. Plan for life the way you cultivate a person." HKSYU never forgets that education is of great moral significance to people and society. This motivates the University to pass on and promote traditional Chinese culture, the humanistic spirit and freedom of learning, elevating the academic excellence of Hong Kong. We lead by example and reflect the virtues of humanity, and we also dedicate ourselves to providing all-rounded and balanced character education. The University has the unshakable responsibility to provide knowledge – with theory and professionalism combined - and thinking training and stimulate independent critical thinking. With this approach, our students can unleash their potential on social, academic, and personal levels, leading society and the country to higher grounds.
50th Anniversary Special: Interviews with Alumni
Interview 1: Michael Wu Chun Wa & Lee Siu Yee
Big HKSYU fans: Michael Wu and wife Lee Siu Yee on gratitude for their alma mater
Mr and Mrs Wu proved their self-acclamation as "Big HKSYU Fans" with their actions. After graduating from the Department of Business Administration in the 1980s, Wu established his career in the banking industry before working for multiple international financial institutions in corporate finance and investment banking services. Wu gave back to his alma mater as a part-time lecturer from 1999 to 2000. In 2003, the University invited Wu to return and answer queries from the Hong Kong Council for Accreditation of Academic and Vocational Qualifications (HKCAAVQ), formerly known as the Hong Kong Council for Academic Accreditation (HKCAA). He also participated in HKSYU's Mentorship Programme.
After graduating from the Chinese Language and Literature Department, Madam Liu Siu Yee devoted herself to education. She never missed the celebrations of the 25th, 30th, 35th, 40th and 45th anniversaries of HKSYU. Around six or seven years ago, Lee extended her generosity to the University by founding the "Lee Siu Yee Scholarship" for her alma mater.
Interview 2: Mr Ngai Chi Yuen and Ng Chui Yee (Click for more)
Unforgettable judo moments and life lessons at HKSYU
There was a one-year gap between the entry years of Ngai Chi Yuen and his wife Ng Chui Yee to Hong Kong Shue Yan University. The husband studied Social Science, the wife Journalism. The University Judo team brought the two together. Still, the couple reckons the life lessons learnt were the greatest gifts from the University – the values of sparing no effort, persistence, and earnestness.
In the summer of 2001, Ngai received his A-Level exam results, which were – as he had expected - mediocre. The science student thus knocked at the door of HKSYU and tried to enrol himself into one of the departments - History, Chinese Language and Literature, Journalism and Communication, Accounting and Social Science. For some reason, Ngai was convinced that social science was the most science-related discipline, hence his decision. Here he also fulfilled a childhood dream – to learn judo by joining the University judo team. As he summarises the four eventful years, Ngai expressed gratitude for his coach and peers.。
Interview 3: George Lung Chee Ming & son Lung Wil Ho (Click for more)
The HKSYU Spirit in the Lung's words
This 50th-anniversary interview features George Lung Chee Ming and his son Lung Wil Ho. In the 1970s, many HKSYU students divided their time between study, work, and family. What added to the challenging strike of balance was the 4-hour commute to the University on every school day. According to Lung, the perseverance of President Dr Hu and Principal Dr Chung inspired him to finish his studies against all odds. In Lung's words, his life was inspired by "The HKSYU Spirit". When his son expressed interest in enrolling in HKSYU, Lung was "very supportive".
Interview 4: Leung Ka Hung & wife Lai Wan Ting (Click for more)
The Biz Couple
Leung Ka Hung met his future wife, Lai Wan Ting, in 2008 through the Mentorship Programme by the Office of Student Affairs. The two eventually fell in love and tied the knot. In this 50th-Anniversary interview, the couple expressed gratitude to the University for the red thread – they also expressed gratitude for the mentorship, guidance and support from the President, Principal, teachers, and staff members of Hong Kong Shue Yan University.
Leung enrolled in the Department of Counselling and Psychology in September 2005 because he wanted to know himself better and learn how to help others. The day before his application, he travelled from his home in Sai Wan Ho to Braemar Hill just for a glimpse of the campus. When the sports enthusiast first saw the new Amenities Building and then the Academic Building, he was impressed by the contrast between the old and new. To this date, Leung still remembers the yellowish and rough papers used at the office when he submitted his enrollment application the next day.
One year later, Lai Wan Ting enrolled in HKSYU in September 2006. When she was still a Form 3 student, Lai was fascinated by the job nature and passion of the in-school social worker; and this fascination became an aspiration that she would study hard for. When she signed her enrollment form at Hong Kong Shue Yan University, it was almost a no-brainer to choose Social Work (Hons) Bachelor's Degree programme. The Ma On Shan dweller, who had hardly set foot on the Hong Kong Island, was so nervous on her way to HKSYU to submit her application. A step on Wai Tsui Crescent, she was amazed by the historic feel of the Academic Building. From the papers used by the University and the clothing of the teachers and students, Lai Wan Ting learnt how 'down-to-earth' this institute was.
Interview 5: Alex Wu Chun Wing & son Wu Ho Tin (Click for more)
Alex Wu Chun Wing & son Wu Ho Tin
Alex Wu Chun Wing, Founder of Photo Magazine, and his son were invited to this 50th-anniversary interview for their alma mater.
The father and son seated themselves in our lecture rooms respectively in the 1980s and 2010s. Despite the 30-year gap, the Wus share similar feelings about Hong Kong Shue Yan University. They are most impressed by Principal Dr Chung Chi Yung and the close-knit relationship between our teachers and students.
Alex Wu holds Principal Chung in high regard – especially for her priceless contribution to Hong Kong's education by giving countless young students an opportunity for further studies and personal development under the roof of the college she founded. According to Wu, Principal Chung was very kind to teachers and was happy to discuss with them. "Before Principal Chung had a stroke in 2001, she would invite me to her office every time I went back to teach my lessons."
Alex Wu recalls when one of his publications, Baby Magazine, organised an essay competition, and he invited Principal Chung to be the keynote guest. To make her presence at the occasion, Principal Chung rushed back to Hong Kong, and this gesture deeply moved Alex Wu. "I felt sorry for putting her through a weary journey just for an activity organised by her student."
Wu Ho Tin recalled the day when he followed his father to visit Principal Chung. Back then, he was still in primary school. A step into the principal room, Dr Chung greeted him with a packet of haw flakes from her drawer. After the first bite, Wu recalled, he tasted something weird and thus restrained from taking another bite. Later, he realised the snack had already gone bad. "I didn't blame Principal Chung because I knew her courtesy was out of kindness. She just didn't notice the expiry date."
Interview 6: Brothers Ng Ka Ho and Ng Ka Chun (Click for more)
Brothers Ng Ka Ho and Ng Ka Chun
Ng Ka Ho and Ng Ka Chun were invited to return to their alma mater for this 50th-anniversary interview. With a 10-year age difference, the brothers studied Business Administration and Accounting at HKSYU and shared their fondest memories of the football team.
Ng Ka Ho, the elder brother, recalled those days when he had to get up very early in the morning for practice. According to him, it's all about attitude. "Young people find it hard to get up early in the morning. Our coach required us to be there 30 minutes in advance for warm-ups, so that we could give our best performance as the reserved time slot began. Coach wanted us to make the most of every moment of our training. It's because laze would be just a waste of your own time and Coach and team members' time."
The younger brother nodded at the importance of attitude. "First of all, we must not look down on ourselves. HKSYU might not have comprehensive infrastructure and generous funding, but our team has a strong team spirit. We value persistence and defy remorse. This attitude inspires my studies and career. I was involved in team administrative work since Year 1, and I was faced with many bumps in the road. But I accumulated more solution experience and shared some with junior team members."
Interview 7: Felix Leung Ka Chun and his wife (Click for more)
The Leung's couple
Leung Ka Chun, Felix and his wife were students of Professor Catherine Sun (recently the Senior Vice President of Shue Yan) during their four-year undergraduate study at the Department of Counselling and Psychology since 2003.
They both took the subject 'Chinese Psychology' taught by Professor Sun, and they had learnt a lot from such an inspiring teacher. Let's read more about their story!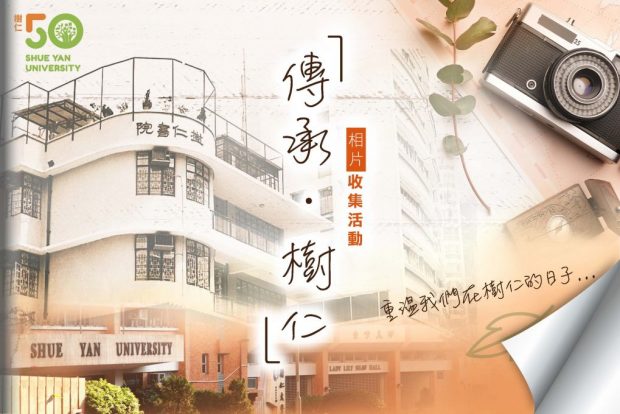 Inheritance@HKSYU Photo Collection Campaign
To celebrate HKSYU's 50th anniversary, we cordially invite you to share old photos portraying warm, unforgettable campus moments. These photos are compiled to enrich the shared memories among HKSYU students. They represent our founding goals to "cultivate virtues of benevolence" and to "broaden horizons and knowledge."
Revisit these precious HKSYU moments
Click​​​​​​ ​here to upload a photo now.
Lady Lily Shaw Hall – Sliding Door Paintings
For its 50th anniversary, r Hong Kong Shue Yan University invited renowned illustrator Zoie Lam to lead a group of students and staff members to splash colours on the sliding doors at the 35th Anniversary Plaza using 15 colours, including the thematic colours orange and green.
These mural art pieces grace five campus buildings, including the Library Complex, the Academic Building, the Residential and Amenities Complex, and the High and Low Blocks of the Research Complex. These paintings portray our school bus bearing the 50th-anniversary totem, the minibus frequented by our teachers and students, our writing pad chairs, and graduation photos on the campus.
The mountain and valley in the painting suggest that life is not an easy journey. When you are at a low ebb, it is important to take the journey positively and persevere on your path. These mural paintings say, "You can do it" and "Never give up".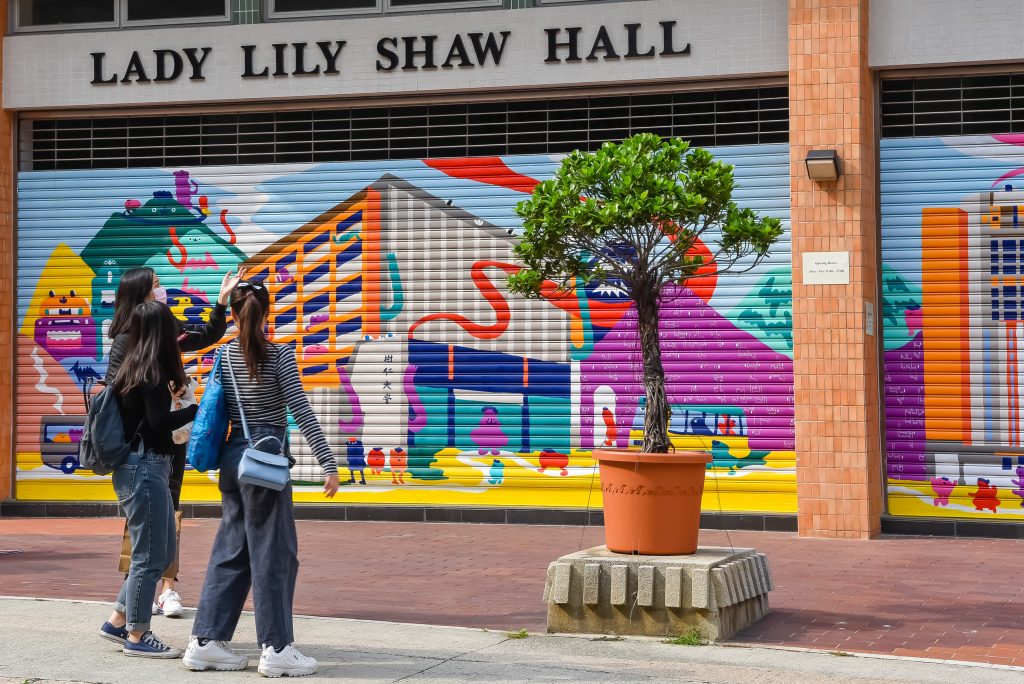 The sliding door painting at the Lady Lily Shaw Building near the Academic Building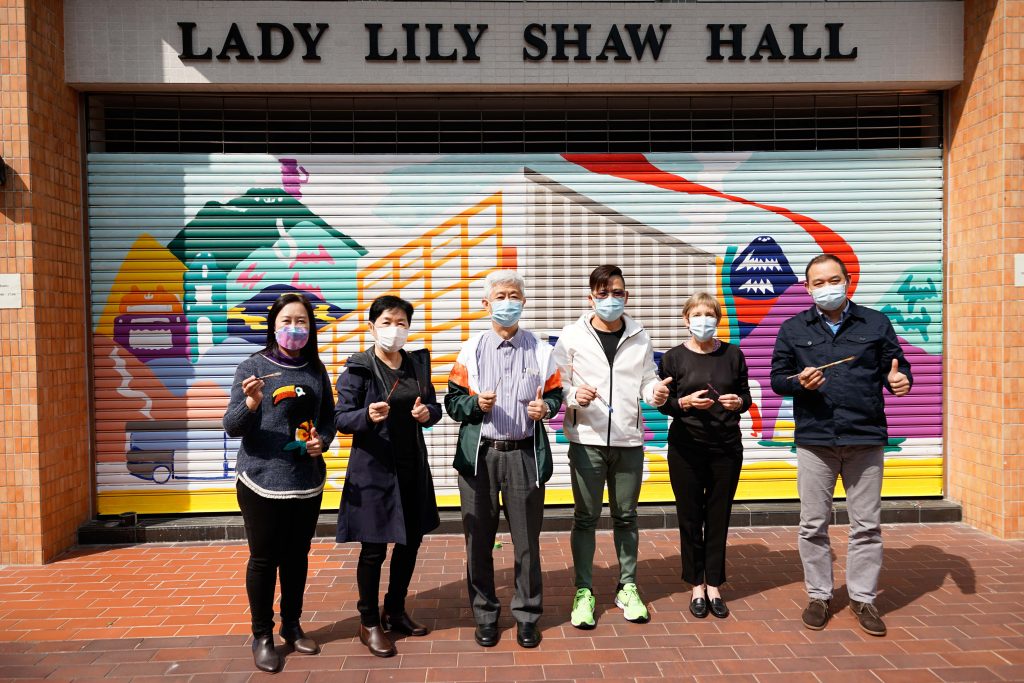 Group photo of the University management after the painting activity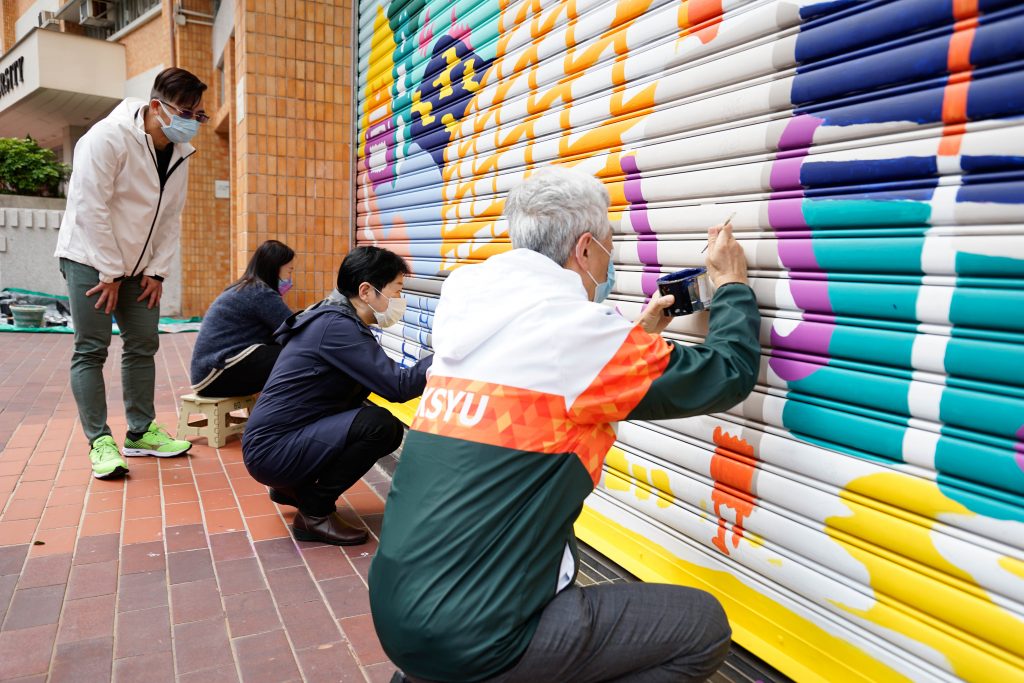 Executive Vice-Chancellor Dr Hu Fai-chung, Chief Vice President Prof. Catherine Sun Tien-lun, Vice-President of Administration Prof. Cheung Siu Keung, and Associate Vice-President Ms Sophia Yip Sau Yin were some of our painters.
Download Peng Niao Stickers
HKSYU Mascot – "Peng Niao"
The origins of Peng Niao date back to the Taoist literary classic Zhuangzi: Enjoyment in Untroubled Ease - one of the readings for Year 1 Chinese Language. Peng Niao symbolises aspiration, courage, and ambition. It was once the theme for HKSYU's 40th anniversary, representing our ambitious teaching approach and the pursuit of progress. Known as the University's mascot today, Peng Niao references the bird portrayed in the literary classic to embody the educational mission of HKSYU. Since then, Peng Niao has been a heartthrob among our students and always shows up at annual sports days or important occasions, such as HKSYU Infoday.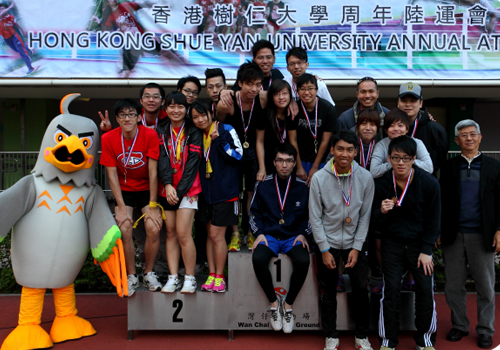 Peng Niao joined our athletes for a group photo at the University Sports Day.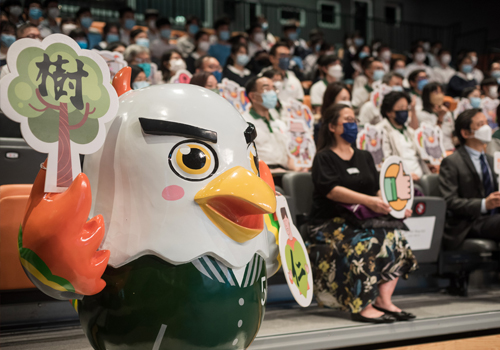 The Peng Niao statue was a popular photo-op on the Day of HKSYU Infoday.
To celebrate its 50th anniversary and the 10th birthday of our mascot, HKSYU presents Peng Niao mobile app stickers for our faculty and staff members, students, and alumni to download. The first batch of "Everyday life of Peng Niao" stickers rolled out in May, and "Everyday life of Peng Niao in Uni" is now available!
* Hong Kong Shue Yan University owns the copyright of the pictures and mobile app stickers of Peng Niao showcased on this website.
Corners of HKSYU Hidden Views in Gallery
This year marks the 50th anniversary of Hong Kong Shue Yan University, and it's time to showcase the most beautiful and renowned side of the University.
In April 2021, the Hall Management Unit held the "50th Anniversary Special: Corners of HKSYU" to inspire students and faculty members to explore these hidden gems around our campus from a new perspective and discover the unknown charm of the University with an attitude of "change" and innovation. These photos depict beautiful and heart-melting corners of HKSYU, and the following ten photos are the most highly rated among our students and faculty judge panel as the "Top 10 Hidden Views of HKSYU" (in no particular order).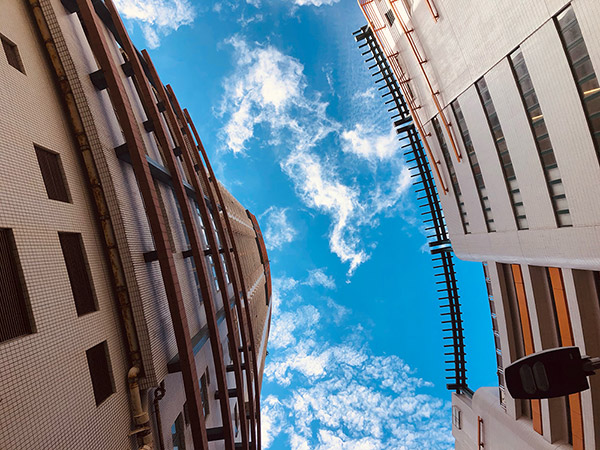 The Old and the New
Photographer: Si Hoi Kei (Department of Social Work).
Description: For the past 50 years, our university has been nurturing talents and experiencing ups and downs as the school campus expands and refreshes its look. This photo shows the Residential and Amenities Complex (built in 2005) and the Research Complex (completed in 2015). The contrast between the two complexes represents the integration of the old and new and the change in time. Students come and go, but the love of teachers and students and the school philosophy remain unchanged. We wish you all the best for the 50th anniversary.
Location: Between the Research Complex and Residential and Amenities Complex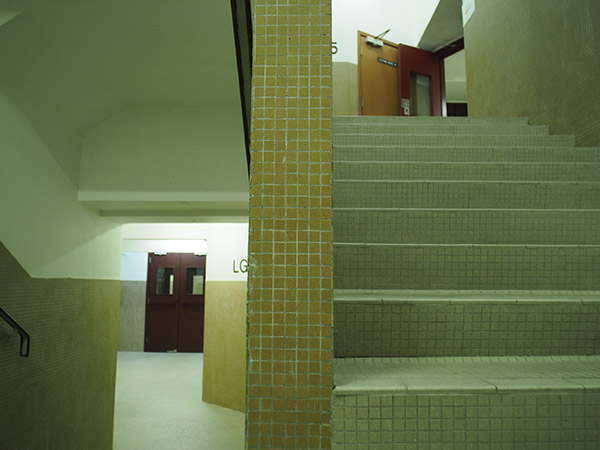 Encounter at the Corner - 5.5
Photographer: Lo Chak Yin (Department of Law and Business)
Description: As one of the most historic universities in Hong Kong, HKSYU stands at the hilltop with a fault in LG5 due to its abnormal geographical location - LG 5.5.
Location: LG5/F, Academic Building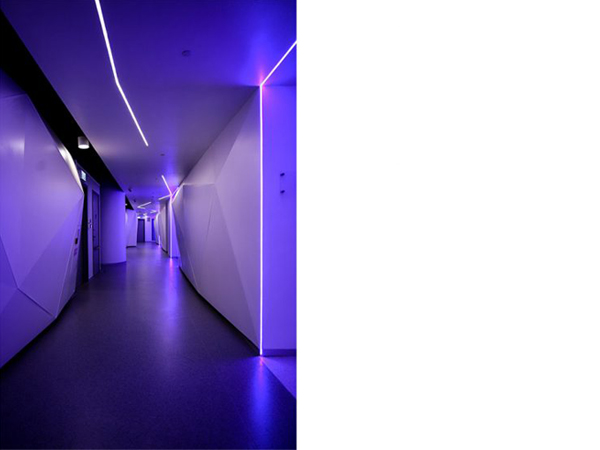 Tech
Photographer: Fung Ka Lai (Department of Journalism and Communication)
Description: Full of Technology
Location: 5/F, Research Complex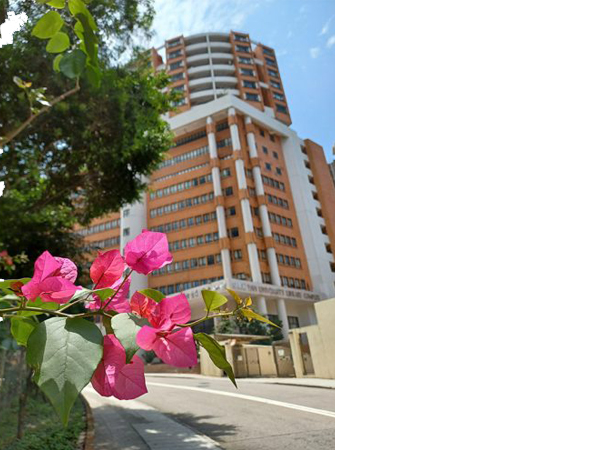 Scents of Flowers and Books
Photographer: Cheng Ka Chun (Department of History)
Description: A university is supposed to be filled with flower-like scents of books to attract the literati. Flowers have been neighbours to HKSYU for decades. The scents of flowers and books complement each other, creating a new aroma of elegance.
Location: Wai Tsui Crescent, outside the Library Complex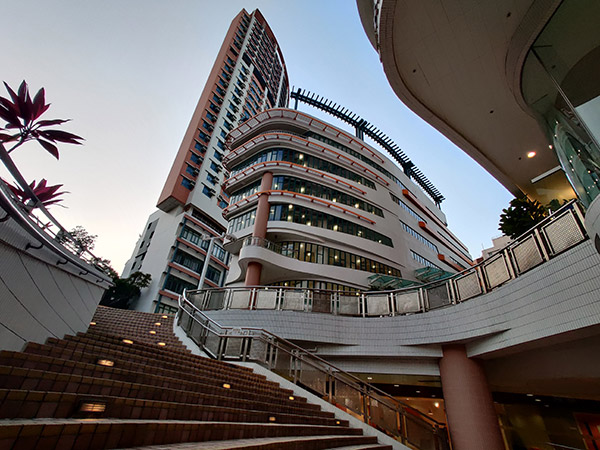 A View of Sunset
Photographer: Keung Yi Wai (Department of Accounting)
Description: Dusk gives the Research Complex an elegant, tranquil look amidst the afterglow and under streetlights when the sun sets.
Location: Staircase of High Block, Research Complex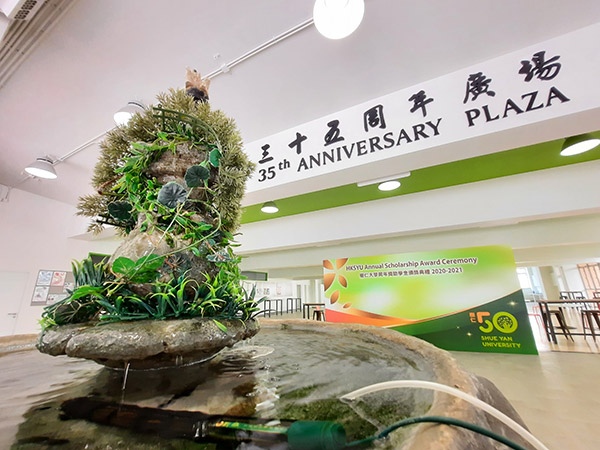 A long stream of water nourishes everything
Photographer: Lau Tak Lan (Department of Social Work)
Description: The water goes slowly, but it still gently nourishes the plants on the stones and the fish in the pond. This reminds me of one thing: I may be a mediocre and slow learner, but as long as I continue to work hard, I can use my knowledge to help those in need one day to pursue a better life.
Location: 35th Anniversary Plaza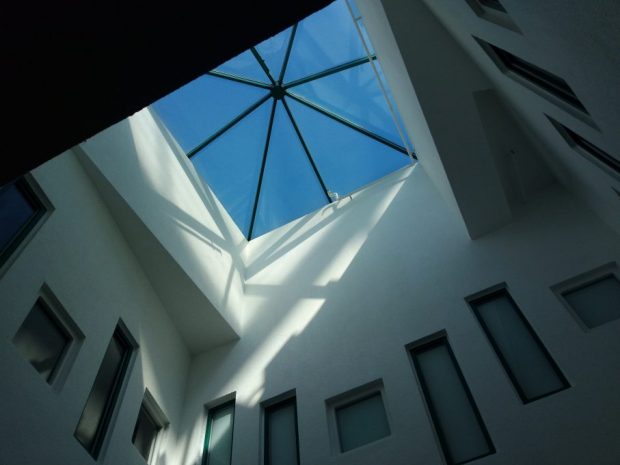 Shue Yan - Morning Glory
Photographer: Chan Hou Yin (Facilities Management Office)
Description: It is believed that our teachers and students frequent the No. 8 Staircase when they shuttle through the Lower Block of the Research Complex, but few people would notice that when they look up, they can see a blue sky above their heads. Every morning when the staircase lights go off, the first morning glory will shine through the sky. Seeing the morning sunray passing through the elevator to drive away from the haze, I am reminded of the morning light embracing our university. Sunshine, like hope, is what we need to drive away from the haze. This 50-year-old university will continue to move forward with hope.
Location: Ladder 8 Lower Block, Research Complex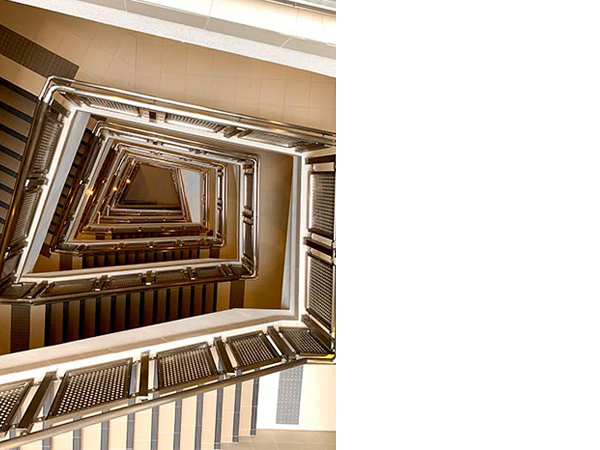 Into the Dawn Endless Future
Beyond Infinite
Photographer: Chan Chun Ho (English Language and Literature)
Description: Tunnel towards Future, Passage beyond Infinity.
Location: RLB 5/F, Lower Block, Research Complex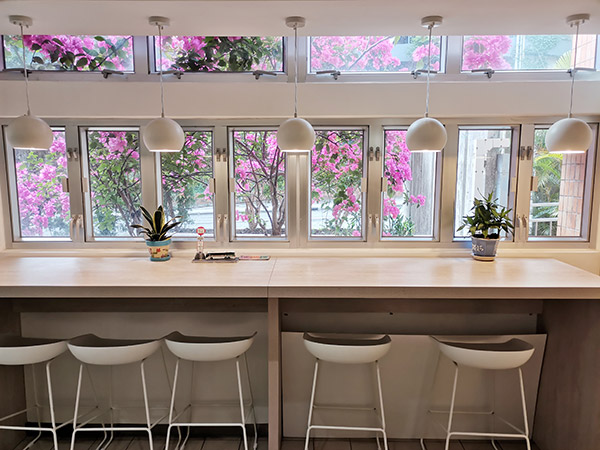 A Quiet Corner
Photographer: Ching Hiu Lam (Registry)
Description: For 50 years, the Academic Building of HKSYU has witnessed the growth and development of this big family. In recent years, Shue Yan carried out a series of renovation projects that brought us many surprises. Green plants, high stools, flat tables, hanging lights, models, flowers, and spring light enrich this quiet corner. The bell ring keeps up with the students' steps away from the university. Youth is beautiful.
Location: Lobby, Academic Building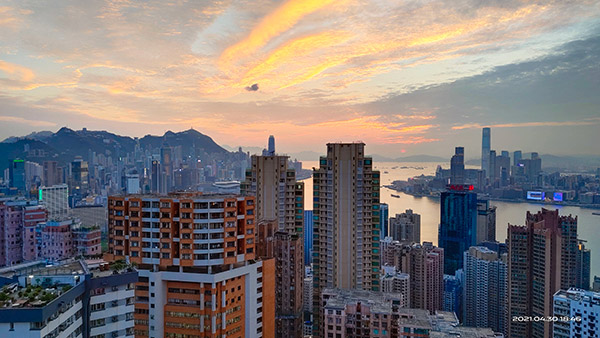 The Sunset
Photographer: Kwok Hou Ming (Department of Economics and Finance)
Description: Library in Sunset
Location: 21/F, Residential and Amenities Complex
As teachers and students celebrated the 50th anniversary of Hong Kong Shue Yan University, all departments and units present different academic activities to mark the occasion. Click here to browse the various academic activities.
Date 日期
Programme 活動
Department/Unit學系/單位
12/2021
Academic Forum: The 8th Family Academic Research and Forum 2021
Economics and Finance
23-24/10/2021
International Symposium:
On reflections on the "canonisation" of Chinese Literature
Chinese Language and Literature
07/2021
Webinar series:
(1) Collective Memory, Culture and Advertising
Guest speaker: Mr. Simon Fung
Speaker: Dr. Veronica Mak
(2) Korean Wave and Korean Culture
Guest speaker: Korean Cultural Center in Hong Kong
Speaker: Dr. Gigi Lam
(3) Cultural Entrepreneurship and Art Space in Hong Kong
Guest speaker: Ms Daisy Chu
Speaker: Dr. Tsang Chung-ki
Sociology
26/06/2021
Seminars series:
Psychoanalysis in China: a centenary review
Seminar 1: Historical and cultural impact of psychoanalysis
HKU Professor CHEUNG Lik Kwan (張歷君教授),
Department of Chinese Language and Literature, CUHK
Seminar 2: "East meets West"? commensurability
of Psychoanalysis in Chinese context – a philosophical overview
Mr. YEUNG Chun-yin (楊俊賢)
Seminar 3:
A dialogue between Hong Kong Literature and Psychoanalysis
Ms. Janet BOYCE, counselling psychologist
Ms. HON Lai-Chu (moderator), Renowned Hong Kong writer
Seminar 4: Lacan and the avant-grade
點擊查看活動詳情
Counselling and Psychology
06/2021
Academic forum:
A Study on the Migration Willingness and Living
Conditions of Hong Kong Christians
Economics and Finance
25/04/2021
Open Competition:
Mooting and Mock Trial Competition II
2020/2021
Law and Business
(co-organised with Hong
Kong Schools Mooting
and Mock Trial Association)
14/04/2021
Investment Seminar II:
Percy CHAN, CEO & Partner, Jiyuan Investment Management (HK) Co. Ltd.
Business Administration
13/04/2021
Accounting Celebrity Workshop 3:
Accounting and Auditing Profession in Taiwan
Mr. Andrew FUH, Managing Director, Ernst &
Young Limited, Taiwan
Accounting
09/04/2021
Workshop:
Commercial Editing
Chan Keung (Flying Dream Production Company Limited)
Department of Business Administration
09/04/2021
Humanities Lecture Hall II:
From the Dispute of the "Zhi Domain (Kingdom)" to the Game of Power and the Demise
of the Western Jin Dynasty Princes Speaker: Professor Wang Chunhong
Chinese Language and Literature
30/03/2021
Investment Seminar I:
Percy CHAN, CEO & Partner, Jiyuan Investment
Management (HK) Co. Ltd.
Business Administration
27-28/03/2021
Open competition:
Hong Kong Interschool Mediation Tournament 2021
Law and Business
(co-organised with Hong
Kong Schools Mooting
and Mock Trial Association)
27/03/2021
Monthly Literary Club:
The Two-Faced City: Hong Kong in the writings of Leung Ping Kwan and Chan Ho-ki
Speakers: Dr Wong Ka Ki and Dr Ho Ka Chun

Co-organised by the Department of Chinese Language and Literature
and the Hong Kong Central Library

24/03/2021
International Conference:
The Evolution of Digital Entrepreneurship,
FinTech and FinReg
Economics and Finance,
Business Administration, Law and Business
23/03/2021
Seminar:
Innovation and Entrepreneurship
Banly CHEUNG, Managing Director, LuxBalance
Business Administration
23/03/2021
Accounting Celebrity Workshop 2:
IPO and ICO
Ms. Anntice LAI, Technical Director, D&Partners
CPA Limited
Accounting
22/03/2021
Lecture:
Correction and Evolution of Pronunciation - On the Right and Wrong Pronunciations
Speaker: Chan Wing Fung
Language Centre (Chinese Department)
21/03/2021
Open competition:
Mooting and Mock Trial Competition I
2020/2021
Law and Business
(co-organised with Hong
Kong Schools Mooting
and Mock Trial Association)
19-20/03/2021
Humanities Lecture i:
Cross-cultural Chinese-English Idiomatic Comparison
Speaker: Professor Sin Chow Yiu
Chinese Language and Literature
05/03/2021
Freshman Chinese Literature Academic Week Seminar:
The world, equally shared by all, aims at absolute perfection. The Ideal of the Human Being of the Book of Rites,
Speaker: Professor SIN, Chow Yiu
Chinese Language and Literature
03/03/2021
Accounting Celebrity Workshop 1:
Debt Restructuring
Mr. Derek LAI, Vice Chair, Deloitte China
Accounting
02/03/2021
JMC Talk:
Staying Afloat: Lessons we learnt in fashion publishing
Mr. Lap WONG, Chief Editor, ELLEMEN
Mr. Ken LAW, Associated Content Director,
Fashion, ELLEMEN
Journalism and
Communication