Faculty of Social Sciences
The Faculty of Social Sciences at Hong Kong Shue Yan University has four departments offering a total of five undergraduate programmes, four MPhil and PhD programmes and four taught postgraduate programmes. The Faculty also has eight psychology-related laboratories, and five research centers related to professional counselling, interdisciplinary research, social phenomena and policy, and big data analysis. The Faculty focuses on training students to serve and contribute to the society by thinking critically and understanding the society from different academic and global perspectives. Graduates of the Faculty of Social Sciences have a passion for the society and are willing to safeguard human well-being and spiritual life with their professional knowledge. They shine in the fields of social service, education, social research and cultural development.
In 2020, the University established the IFree Group Innovation and Research Center to support multidisciplinary teaching and research. The facilities include: Big Data Lab, the Virtual Reality Lab, the Social Robotics and Digital Living Lab, and the Innovation Incubation Hub. The Faculty will follow the University's academic development direction of Digital Humanities, to combine innovative technologies such as artificial intelligence and data analysis to realize the digitization and intelligence of social sciences.
Please browse the departments below: Department of Applied Data Science, Department of Counselling and Psychology, Department of Sociology, and Department of Social Work.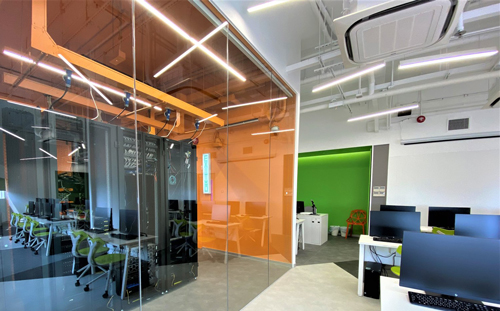 Department of Applied Data Science
Founded in 2020, the Department of Applied Data Science is situated within the Faculty of Social Science in HKSYU. The BSc (Hons) in Applied Data Science offered by the Department is the first bachelor of science programme of HKSYU. It aims to equip students with cross-disciplinary skills to understand and overcome the challenges of interpreting large volumes of data and communicating the results to the intended audience to enable data driven decision making and solve real world problems. Graduates will build expertise in three core areas of knowledge in applied data science (namely business analytics, digital humanities, and data visualization) while learning key statistics and data analytics skills.
Department website: https://adsci.hksyu.edu/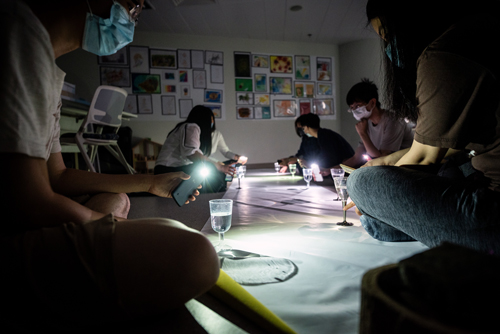 Department of Counselling and Psychology
The Department of Counselling and Psychology is the first and only department of its kind in Hong Kong to offer counselling training at an undergraduate level. Its Bachelor of Social Sciences (Honours) in Counselling and Psychology is the only programme in Asia which uses the most updated knowledge on counselling and psychology to teach students. It emphasizes both learning and practice of counselling skills on professional areas such as youth, family, elderly, etc., and enables students to apply their experience in real-life situations. In addition, the Psychology programme is designed for students with a strong interest in human behaviours and psychology research. Both undergraduate programmes cover psychology knowledge and offer extensive internship opportunities for students to apply their expertise in the future skillfully.
The Department also offers a wide range of postgraduate programmes for students and graduates who are interested in the psychology discipline to widen their scope of learning and advance their career. Programmes offered including MSSc in Psychology, MSSC in Counselling and Psychology, MSSc in Play Therapy, Mphil/PhD in Psychology, as well as Doctor of Psychology in Counselling and Psychology.
Department website: https://counpsy.hksyu.edu/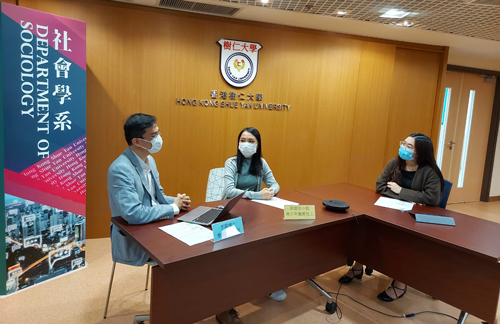 Department of Sociology
The Department nurtures students' critical and creative thinking skills and enables them to analyse social issues and the influence of globalisation on Hong Kong. The BSc (Hons) in Sociology programme covers comprehensive sociological studies, equipping students with sociological perspectives and insights, social research skills, and opportunities of practical experience and networks. In 2021/22, the programme has specifically launched two concentrations: "Entrepreneurship and Community" and "Culture, Heritage, and Innovation", which further strengthen the practical side of the curriculum and ultimately enhance graduates' employability in the job market.
In addition, the Department has launched a new programme namely the BSSc (Hons) in Arts, Culture & Technology. This programme immerses students in digital culture and trains them to be innovative, knowledgeable, skilled and forward-thinking leaders of the arts, culture and creative sectors. As an interdisciplinary programme, it integrates the study of liberal arts and state-of-the-art digital technology. It equips students with proficiency in digital culture, a new medium that is relevant across many cutting-edge fields.
Department website: https://sociology.hksyu.edu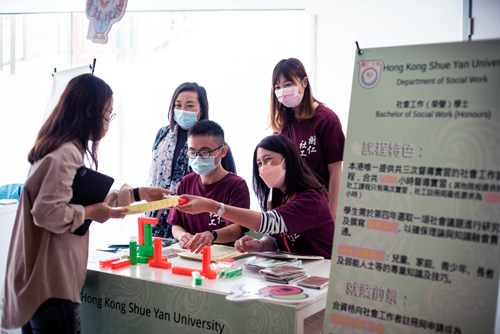 Department of Social Work
One of the first academic departments established when the University was founded in 1971, the Department of Social Work began to offer the BA (Hons) in Social Work programme in 2002. With teaching, research and advocacy combined, the programme cultivates multi-disciplinary social work professionals and prepares young professionals as future leaders committed to the betterment of society. The Bachelor of Social Work (BSW) program is accredited and recognized by the Social Work Registration Board (SWRB) in Hong Kong. Our graduates are now working in different social service sectors, supporting children, youth, families, and the disadvantaged populations in our community, upholding the values and beliefs required of a Registered Social Worker.
Department website: https://sw.hksyu.edu/