The 47th Graduation Ceremony 
Citation of Ms. Sarah LEE Wai-sze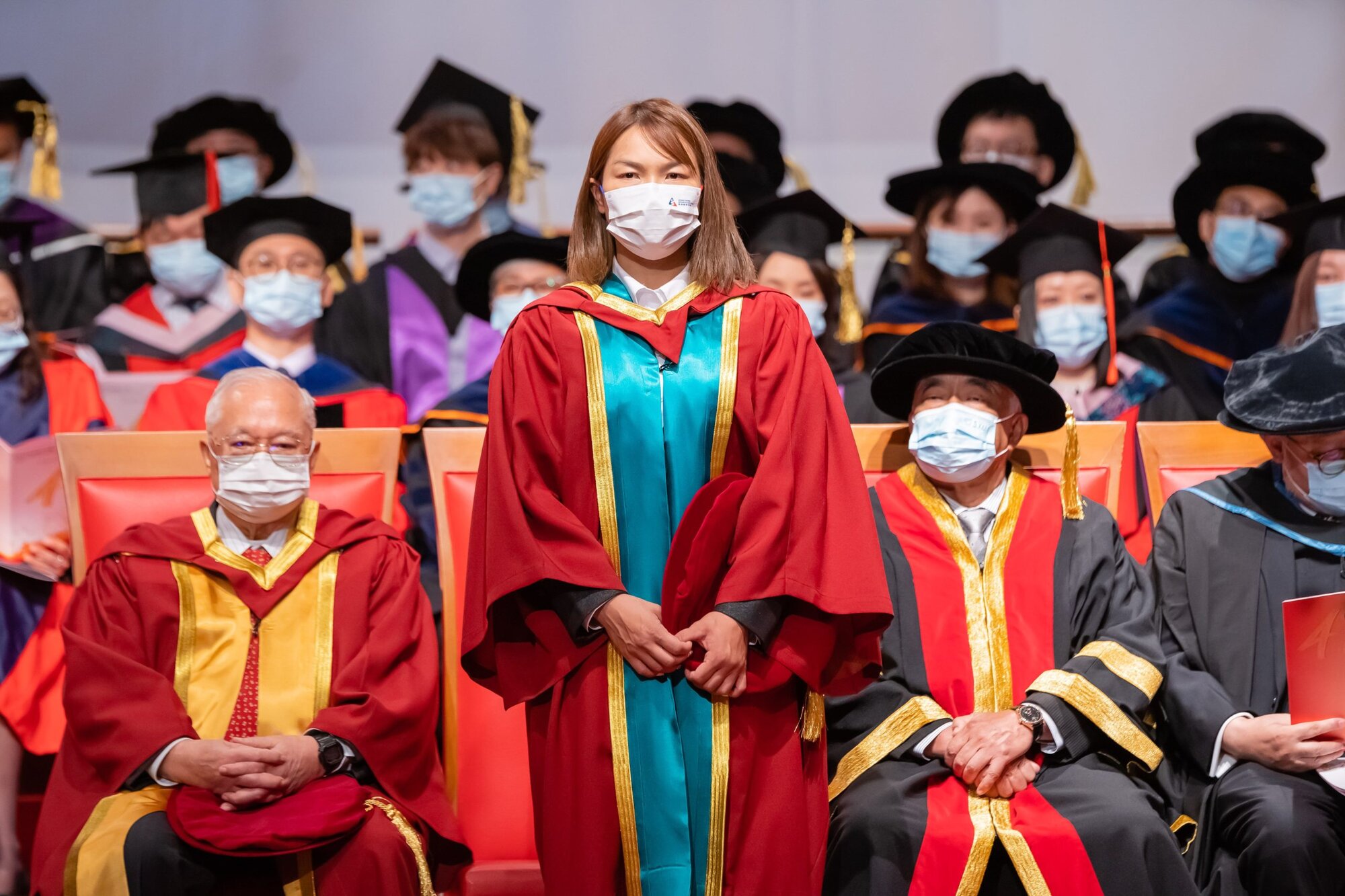 Ms. Sarah LEE Wai-sze Doctor of Social Sciences, honoris causa
A citation translated by Dr. KUNG Chi-keung
Ms. Sarah LEE Wai-sze is a native of Hong Kong with Chiu Chow ancestry. She was born in May 1987 and grew up at Ngau Tau Kok Lower Estate in Kowloon. Her distinguished accomplishments as a multiaward-winning competitive cyclist later earned her the household nickname 'Cycling Goddess of Niuxia' (Cycling Goddess of Ngau Tau Kok Lower Estate). She had been a sprinter for her school's track and field team, and in Form 3 her teacher recommended that she apply to the Hong Kong Sports Institute's
'Future Star program'. As a result, she was selected by the then Hong Kong Cycling Association (now The Cycling Association of Hong Kong, China Limited) to start training in cycling. After graduating from Leung Shek Chee College in Kwun Tong in 2004, she became a full-time track cyclist, at the young age of 17. Though raised in a family of modest means, Sarah never hesitated to pursue her dreams. She has trained hard, never given up in the face of difficulties, and as a result she has attained remarkable achievements. Her successes truly reflect the commendable attributes and spirit of Hong Kong people.
Shortly after Sarah became a full-time athlete, a senior fellow cyclist said to her, "China's elite cyclist GUO Shuang is the same age as you and often competes with you in the same arenas. She started training at age 13 and is now already a world class
athlete. But you are just starting now; there is no way you can catch up with her!" Those discouraging words really hurt, but Sarah was able to turn them into motivation. From that point on, she set her sights ever more firmly on the world of cycling,
achieving her dream of competing in major international cycling events.
Sarah's approach to her athletic training and performance is down-to-earth; she knows that real progress is made one step at a time. In her early days, she almost always ended up last in every competition. But she never had any illusions that she could reach the top in one go. Instead, for each competition her goal was to do slightly better than in the last one. She believed that if she improved with each performance, one day she would achieve her goal of winning gold on the international stage.
One day in April 2006, during road training in Kunming on the Mainland, Sarah had a serious accident. Her bike crashed when she swerved to avoid hitting a stray dog that suddenly darted out from the roadside, leaving her with a scaphoid fracture in her left wrist. Despite undergoing surgery three times, her injury never completely healed. From then on she would be an athlete with 'slight disabilities'. While she was still in hospital, SHEN Jinkang, head coach of Hong Kong Cycling Team, advised her to give up her sports career. Sarah, who had only obtained 11 points in her HKCEE, asked herself: "Did I pick up track cycling
as some kind of 'security blanket' because I didn't get high marks in school, or do I really love the sport enough to make whatever effort it takes to win a gold medal and become a world champion?"
After a one-year absence from all competitions due to her injury, Sarah went back to training, focusing mainly on 500-meter track time trial cycling. Firm in her belief and following the training programme designed by her coach, she gradually improved and was able to train more intensely. By 2009, her rigorous training began to pay off, resulting in a major milestone for her career at the 2010 Asian Games. In November of that year, the 23-year-old Sarah defeated defending champion GUO Shuang at the 500-meter time trial cycling event and won a gold medal, setting a new Asian record with a time of 33.945 seconds. It is hard to describe the joy she felt at that moment, for she had reached her goal by working hard step-by-step, with faith and determination.
After the Asian Games, Sarah shifted her attention to track cycling sprint and keirin racing. In August 2012 at the London Olympics in Great Britain, she clinched a keirin bronze, only the third medal ever claimed by a Hong Kong athlete in Olympic history. She had not only fulfilled her dreams, but also shown the world that Hong Kong track cyclists have the ability to take their place on the international stage, and that our female athletes can compete with the best in the world.
In 2013, Sarah won gold at the 500-meter time-trial in the UCI World Track Championships and became the first-ever Hong Kong female cyclist to wear a rainbow jersey. In September 2014 at the Asian Games in Incheon, South Korea, she won two gold medals, one in the keirin and the other in the sprint.
At the Rio de Janeiro Olympics in Brazil in August 2016, Sarah crashed out of the women's keirin semi-finals after she lost control of her front wheel, following contact with her Australian rival. The next day, she was beaten in the sprint during the quarter-finals. Despite those setbacks, she has never thought of giving up; instead she has continued to pursue her dreams as a competitive track cyclist.
In order to concentrate on training, Sarah has chosen to live at the Hong Kong Sports Institute. She trains hard and leads a highly disciplined life. She is up every morning at 7 am, and starts training at 9 am. She goes to bed before 11 pm, a routine she has kept to for over ten years. She undertakes different forms of training in the morning and afternoon sessions, but they invariably involve sets of sprinting exercises as well as deep squatting at the gym to help strengthen her thigh muscles. In the evening, she has to review her training data and also write a training report. When a major competition is approaching, she travels to the Mainland to undergo systematic intensive training, which often lasts for 50 to 60 days at a time. Sarah once suffered from anaemia, which made her tire easily. Yet, despite her physical weakness, she kept on with her training. In recent years, through monitoring her diet she has been able to absorb enough iron to strengthen her body.
In 2017, the Hong Kong SAR Government awarded Sarah the Bronze Bauhinia Star in recognition of her outstanding achievements in sports.
In August 2018, Sarah successfully defended her sprint and keirin titles at the Asian Games held in Jakarta, Indonesia, making her the first Hong Kong athlete ever to clinch two gold medals at two successive Asian Games. At the Jakarta Asian Games, Sarah also partnered her two junior teammates, MA Wing-yu and LI Yin-yin, in the team sprint for a silver medal. Earlier, in April 2018, she had been appointed Assistant Cycling Coach at the Hong Kong Sports Institute to help train and mentor junior female cyclists. In October, she was named among "The Ten Outstanding Young Persons 2018".
For the 2020 Tokyo Olympics, Sarah had set herself two goals: one was to win more medals, and the other was to help her junior
teammates to shine at the Tokyo Games. But the outbreak of the COVID-19 pandemic in early 2020 brought major international sporting events to a halt, and the Tokyo Olympics was pushed back a year. After going through 14 months of bubble training, Sarah competed in the UCI Track Cycling Nations Cup (Hong Kong, China) held in the city in May of this year, capturing sprint gold and keirin silver.
The Tokyo Games in August this year was Sarah's third Olympic appearance. The 34-year-old cycling veteran failed to repeat her heroics in the keirin and finished eighth overall. Putting aside her disappointment and pulling herself together, she clinched a
bronze medal in women's sprint to "realize half of her dream". She credited her victory to learning "how to let go" and said, "Life is like this, but it's important not to have regrets."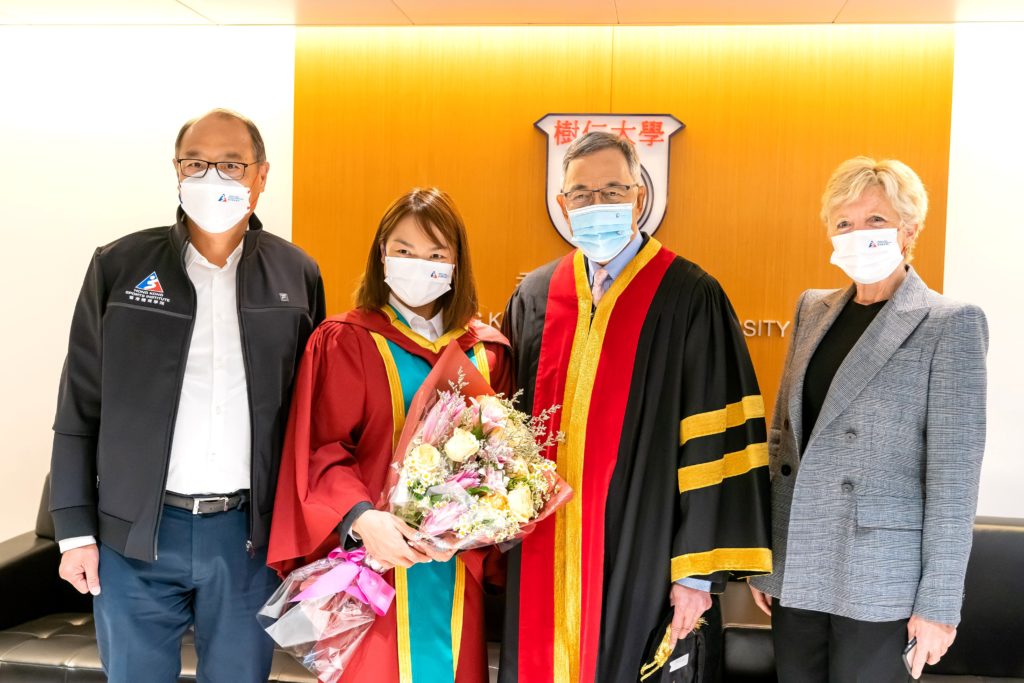 From left to right: Dr. LAM Taifai, Ms. Sarah LEE Wai-sze, Mr. Kenneth TING, Dr. Trisha LEAHY
Besides her passion for cycling, Sarah also has a thirst for knowledge. She has successfully completed her Bachelor of Health Education (Hons) at the Hong Kong Education University, and is now enrolled in the BA (Hons) in Creative and Professional Writing at the Hong Kong Baptist University.
As we can see, Sarah has the strength and determination to move steadily toward the goals she sets for herself. Her accomplishments truly mirror the spirit of Hong Kong people who are diligent, studious, dare to dream big and work hard to overcome obstacles. In recent years, Sarah has used the experiences and insights she has acquired from training and competitions to guide younger people. No doubt, in working for the benefit of others, she also benefits in return. Her generous spirit is fully in keeping with Shue Yan's philosophy as enshrined in its motto: 'Cultivating virtues of benevolence; broadening
horizon and knowledge'.
Dr. HU, I take great honor in presenting to you Ms. Sarah LEE Wai-sze for the award of the degree of Doctor of Social Sciences, honoris causa.
Source: Nov and Dec 2021 Combined Issue