The Department of Sociology Held a Virtual Hybrid Academic Lecture on "Metaverse and Public Welfare Action"
The Department of Sociology organized a virtual hybrid academic lecture on "Metaverse and Public Welfare Action" on 4 May. By integrating the industries of arts, education, and retail, as well as explaining how the metaverse helps public welfare actions at various social levels, the lecture enabled the public to learn about the megatrends of the metaverse in different aspects.
The lecture was conducted online and was hosted by Dr. Mak Sau-Wa, Associate Professor of the Department of Sociology and Associate Program Director of Arts, Culture and Technology Program. The guest speakers included Mr. Samuel Lam, a prominent entrepreneur in the Internet 3.0 and new retail innovation sectors, and Ms. Michele Ho, General Manager of X Social Group Holdings. With the topic of "Art + Technology", Mr. Lam and Ms. Ho shared case studies of the metaverse integrating cultural preservation and national branding to help students equip themselves for the metaverse industry.
*Chinese version only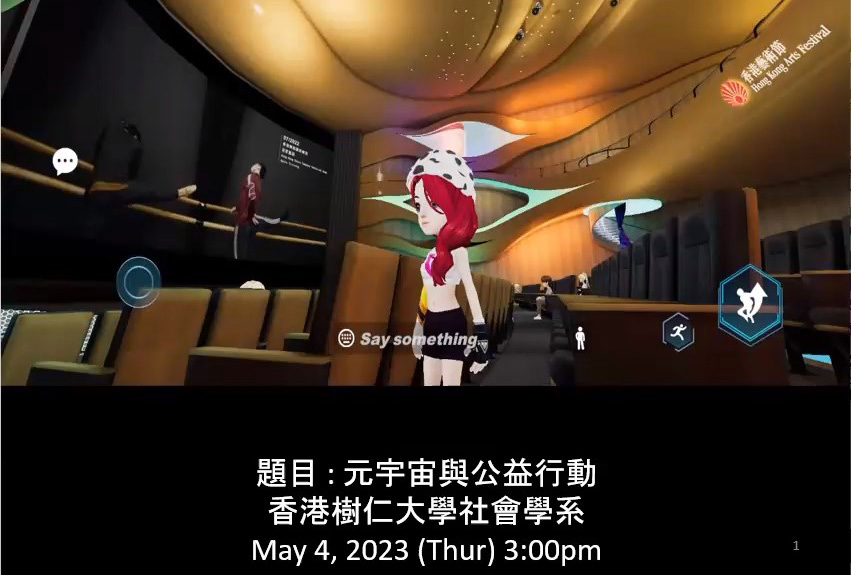 是 次 講 座 讓 參 與 者了解和討論元宇宙和公益行動之間的關係,並探索在虛擬世界中促進社會公益的潛力。
社會學系於5月4日舉辦「元宇宙與公益行動」虛擬混合學術講座,透過將藝術、教育、零售等行業結合,以及從社會學角度講述元宇宙在不同社會層面上如何幫助公益行動,讓大眾從不同方面了解元宇宙的大趨勢。
是次講座以線上形式進行,由社會學系副教授兼藝術、文化及科技課程副主任麥秀華博士擔任主持人,並邀請了香港著名互聯網3.0及新零售創新科技界別的企業家林漢源先生,和X Social Group控股集團總經理何佩玲女士作為主講嘉賓,以「藝術+科技」為主題,與學生分享元宇宙結合文化保育及民族品牌的案例,了解如何装備自己進入元宇宙行業。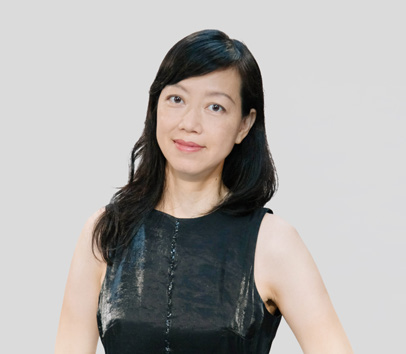 社會學系副教授麥秀華博士擔任講座主持人。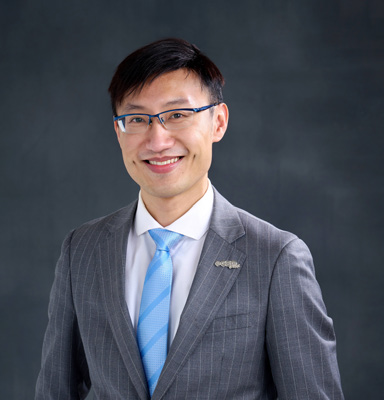 X Social Group 控股集團主席林漢源先生分享了建立香港首個元宇宙藝術劇院的案例與經驗。
講座聚焦於「元宇宙」概念,指人們可以在這個虛擬世界或平行宇宙的平台上進行互動和交流。隨著近年虛擬世界和虛擬現實技術的快速發展,元宇宙已成為一個引人注目的領域,吸引了廣泛關注。麥秀華博士在講座上簡單講述在現今潮流下,元宇宙科技如何影響我們的社交生活。而從社會學角度分析,元宇宙科技對整個社會文化、人與人之間的互動、以及個人對工作、消遣等亦帶來影響,因此學者理論結合元宇宙科技,將有助建立公平、多元的社會。
林漢源先生作為「香港藝術節」元宇宙項目總統籌,他在講座上分享了建立香港首個元宇宙藝術劇院的案例與經驗。何佩玲女士在講座上指出,社會大眾對元宇宙的了解並不深入,甚 至有人認為元宇宙與線上遊戲的科技相若,惟線上遊戲只是元宇宙科技的其中一部份,但認同以線上遊戲去理解元宇宙相對更易入手。何佩玲女士表示,元宇宙的核心概念在於與社會聯繫,透過真人以虛擬現實(VR)、擴增實境(AR)、虛擬網絡(Virtual N etworking)等技術,使人們能夠在虛擬空間中進行互動和交流,以達成一種人與人的連結,才是元宇宙的核心價值。面對近年越來越多機構把元宇宙應用到教學用途,期望可帶動多更學習層面上的互動性。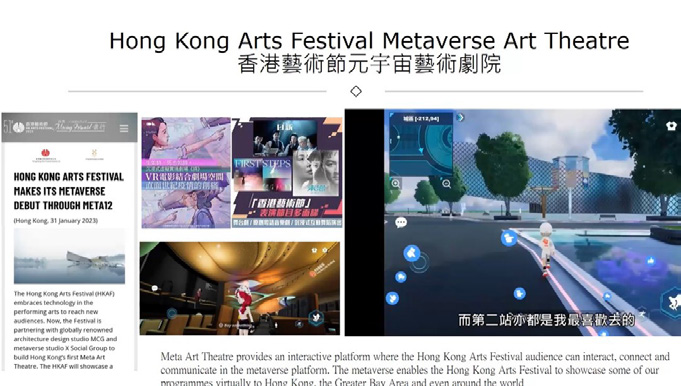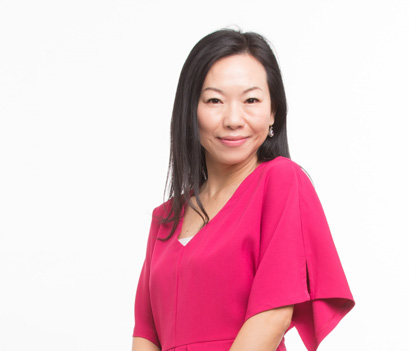 X Social Group控股集團總經理何佩玲女士,
擔任是次虛擬混合學術講座的主講嘉賓。