HKSYU Information Day 2023: Explore Your Future in the Playground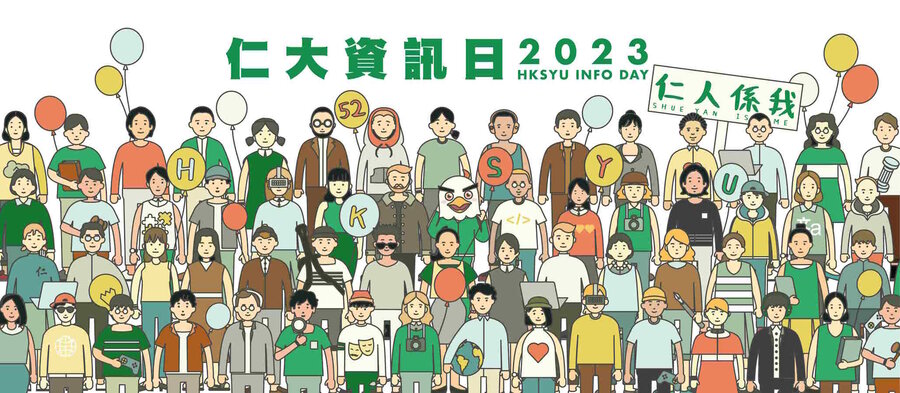 The Hong Kong Shue Yan University (HKSYU), also known as "Shue Yan," has been providing education for over 50 years and has consistently ranked as the top private university in Hong Kong in the QS Asia rankings for the past 5 years. Currently, HKSYU has nearly 4,000 students, and its graduates can be found in various industries worldwide. Therefore, it can proudly be said that there are definitely many alumni and students who can say "Shue Yan is me." The HKSYU Information Day 2023 is designed to extend this belief, hoping to attract more students to study their favourite programmes and pursue their university journey at HKSYU.
The HKSYU Information Day 2023 will be held on November 18th at Shue Yan's Braemar Hill campus in North Point. The Admissions Office has prepared a series of exciting activities for attendees. Prospective university students can take this opportunity to visit the booths set up by various academic departments to gain in-depth understanding of different programmes and admission information. The general public can also get to know HKSYU through various sharing sessions held on the day. One of the highlights is a thematic talk titled " Shue Yan University: Hong Kong's First Private University " by Professor Ambrose King, Emeritus Chair Professor of Sociology and former Vice-chancellor of CUHK. Professor King will talk about the history and development of HKSYU, as well as his personal friendship with Shue Yan. Another guest speaker is Mr. Albert Tam, a renowned science fiction writer invited by the Department of Chinese Language and Literature. He will share his experiences in creating Chinese science fiction films. Whether you are interested in joining the film industry or have a passion for science fiction novels, this is an event not to be missed.
Another media-related event is the premiere of the documentary "Boundless: Chinese Martial Arts" organized by the Department of Journalism and Communication. The film explores how Chinese martial arts, an intangible cultural and sport activity in Hong Kong, by interviewing various famous martial arts experts. After the premiere, renowned Hong Kong Film Awards director, Mr. Wong Wai Kit Vicky, will engage in a dialogue with the guests to delve into topics related to film creation and shooting.
To align with HKSYU's development direction in "Digital Humanities," the University has established the Office of Teaching and Learning Development in recent years and initiated many Virtual Reality (VR) projects to promote interactive learning and research. Friends attending the Information Day can visit the "Interactive Multimedia Teaching and Learning Practice Field" to play the VR games. This includes playing the role of a journalist reporting news at a virtual firefighting scene and handling bullying incidents on a virtual campus, with professors providing on-site explanations and interacting with participants. In addition, Several "Explore HKSYU with You" campus tours to be led by student ambassadors will also be arranged to showcase the teaching and residential facilities to visitors. The entire campus is filled with food stalls and game booths, creating a joyful atmosphere akin to an amusement park for friends visiting HKSYU to enjoy themselves.
Free shuttle bus services to Shue Yan campus are available at Shatin, Kwun Tong, and Wan Chai. For more details, please visit the HKSYU Information Day website. We look forward to your presence!
HKSYU Information Day 2023
Date: November 18, 2023 (Saturday)
Time: 10:00 AM - 5:00 PM
Location: 6-12 Wai Tsui Crescent, Bao Shan, North Point, Hong Kong Shue Yan University Campus
Information Day website: https://infoday.hksyu.edu