Launching Event of "Development of Online Teaching, Held Jointly by HKSYU and Three Self-financing Institutions Learning and Assessment Solutions"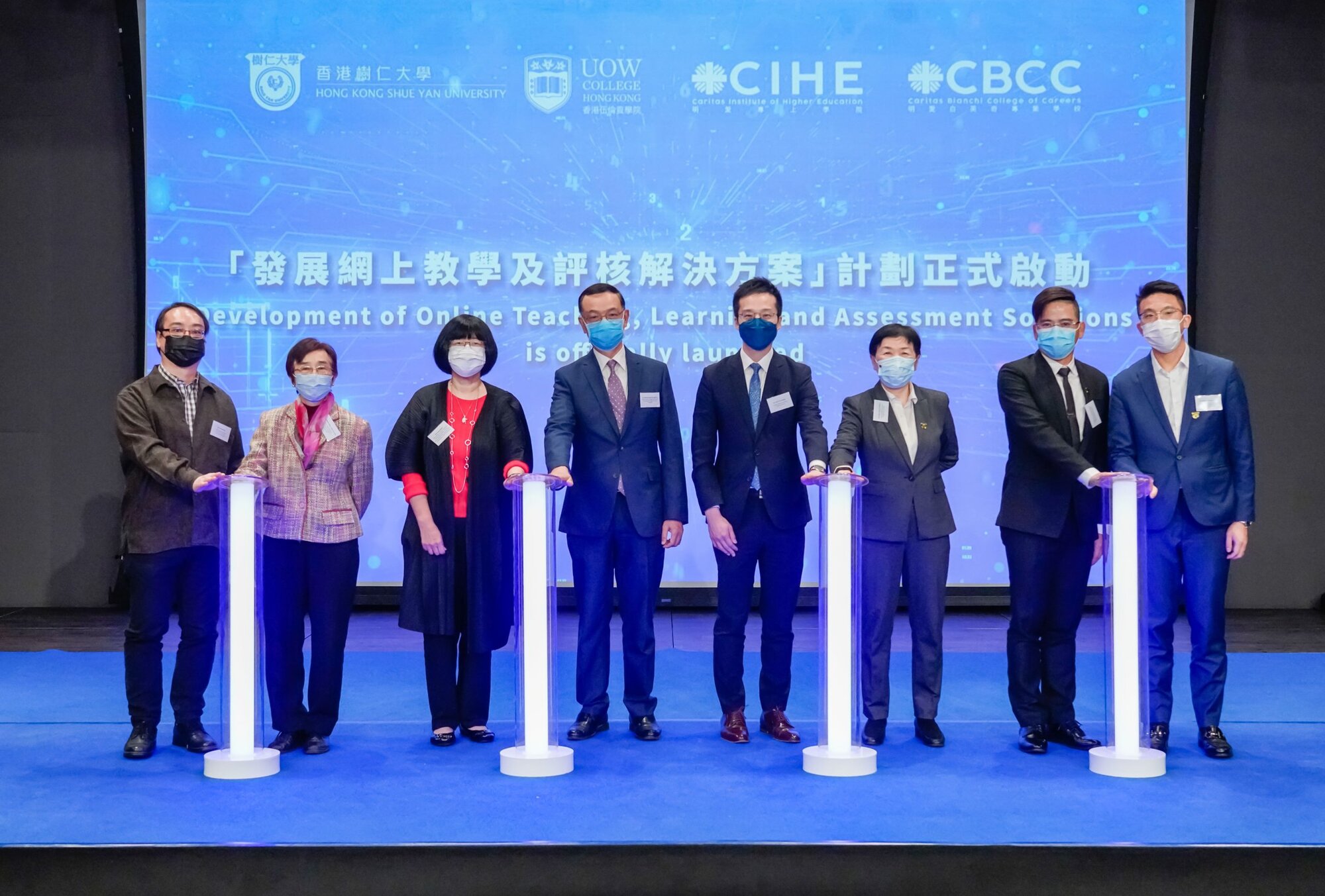 Hong Kong Shue Yan University (HKSYU), together with three partner institutions, including Caritas Institute of Higher Education (CIHE), Caritas Bianchi College of Careers (CBCC) and UOW College Hong Kong (UOWCHK), has successfully obtained $22.65 million from the government's Quality Enhancement Support Scheme (QESS) to develop a three-year "Development of Online Teaching, Learning and Assessment Solutions" project. The launching event of the project was held at HKSYU on 10 November 2021.
Officiating at the launching event were Mr. NG Siu Kei Kasper, Principal Assistant Secretary, Further Education, Education Bureau; Professor SUN Tien Lun Catherine, Academic Vice President, HKSYU; Dr. MAK Kin Wah Kim, President, CIHE & CBCC; Professor BLIGH Sim Wan Annie, Provost, CIHE & CBCC; Professor VRIJMOED KWAN Lilian Lee Ping, Vice-President (Academic), UOWCHK; Mr. LEE Kim Ming, Assistant Professor of Faculty of Social Sciences, UOWCHK; Professor CHEUNG Siu Keung, Associate Vice President (University Administration), HKSYU; and Dr. CHOW Tak Sang Jason, Director of Teaching and Learning Development Office, HKSYU.
In her speech, Professor Catherine SUN said that digital information technology and education are inseparable, and online learning and blended learning are becoming more and more popular. Teaching through games to enhance learning motivation is what the whole education sector is trying to do. HKSYU and three partner institutions will pursue teaching innovation in the project of "Development of Online Teaching, Learning and Assessment Solutions". In addition to making changes in "quantity", they also hope to bring "qualitative" changes.
Professor Sun explained that teachers had to adapt to different online teaching tools in the past two years, but to make full and good use of these tools, they not only need to improve their proficiency in technology, but also need to change their pedagogical mindset to achieve effective teaching innovation. "Corresponding to digital humanities actively promoted by HKSYU, this project will be very helpful. It will enhance the collision between science and technology and humanities, and reshape the education of humanities, social sciences and other sciences with digital technology."
In his speech, Dr. Kim MAK said that the inter-institutional cooperation between the four institutions evidenced the common goal of the self-financing sector to improve teaching quality with high-quality teaching. This project will make online teaching more student-centred, increase the flexibility of teaching, facilitate teachers and students to master new technology, and use technology to increase the interest and effectiveness of learning.
Professor Lilian VRIJMOED KWAN said in her speech that in the definition of their parent school UOW College Australia, the principle of blended learning is student-centred, active and interactive. Although the self-financing sector in Hong Kong started blended learning relatively late, with the efforts of HKSYU and its QESS team and the close cooperation with partner institutions, she is confident they will be able to increase the use of blended learning so that students can learn more effectively and be equipped with the skills needed for the society upon graduation.
Before the launching event, the guests visited the Virtual Reality Laboratory of "iFREE GROUP Innovation and Research Centre" on 5/F of the Research Complex at HKSYU. The teaching staff of the Department of Applied Data Science introduced the AR and VR equipment and game-based teaching materials in the laboratory to the guests.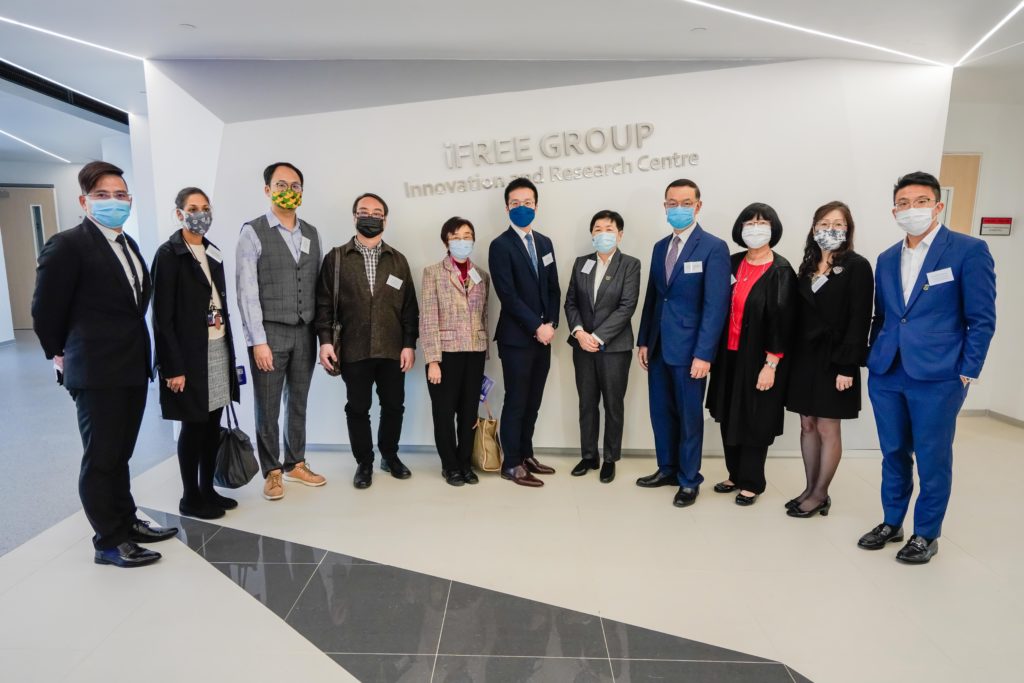 Officiating guests visited the iFREE GROUP Innovation and research Centre before the opening ceremony.
Dr. Jason CHOW, Director of Teaching and Learning Development Office responsible for the implementation of the QESS project, told Shue Yan Newsletter that the three-year project will start in January 2021 and conclude at the end of December 2023. The project has three objectives. The first is to develop a new online teaching platform called Crio. Different from other mainstream online platforms on the market, it has more interactive functions and supports game-based teaching. In the long run, it can better customise the functions according to the needs of students, reduce the restrictions of online teaching, and improve the interactivity of online teaching.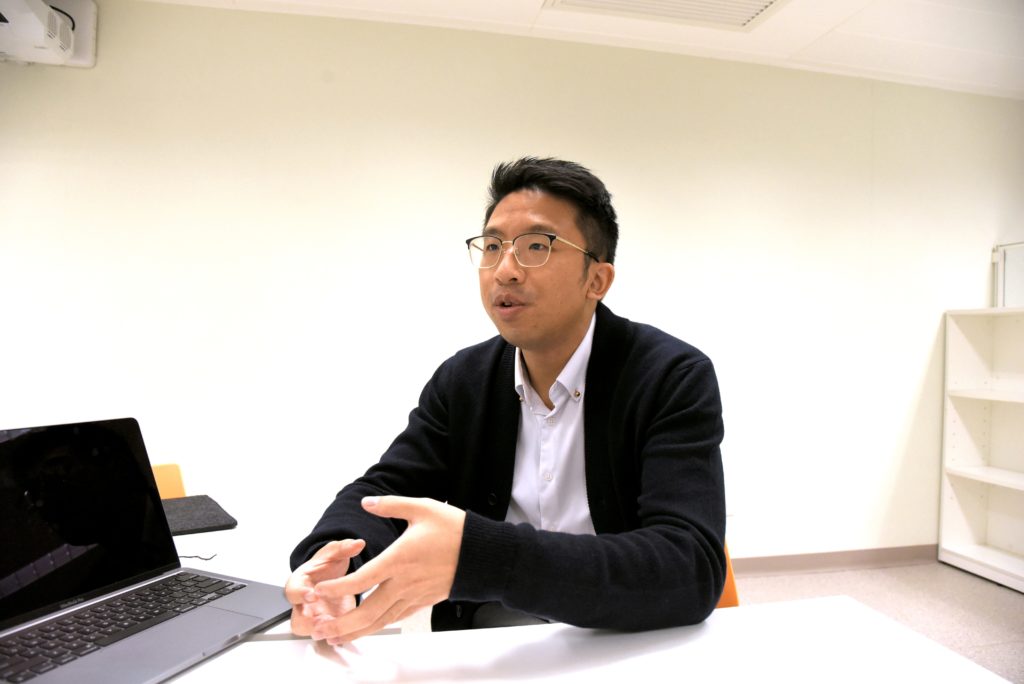 Dr. CHOW Tak Sang Jason, Director of Teaching and Learning Development Office.
The second focus is to develop VR, AR and gamebased teaching content. Within three years, the project will launch 20 online learning and blended learning courses with game-based elements to improve the fun of teaching and learning. Some of these subjects will even make use of VR and AR technology to improve students' learning experience.
The third focus is to enhance the ability of teachers to apply educational technology in daily life. This project will support a series of teacher workshops, seminars and an online resource platform. The purpose is not only to improve the ability of teachers and students to operate certain teaching software or facilities, but also to make effective use of these technologies to enhance learning motivation and efficiency, so as to make technology a catalyst for heutagogy.
Dr. Chow said that the trial use of Crio has begun in some classes and opinions have been collected from teachers and students to improve the design. The University will hold workshops for teachers to explain how to use Crio, and will produce teaching
videos. "The new platform is not difficult to use, and technicians will be arranged to help teachers and students master it at the initial stage of formal roll-out."
As for how to maintain the development of online and blended learning after the end of the project in 2023, Dr. Chow said that the project can be seen as the starting point for promoting the new teaching mode. As this mode will become a trend, he believed that it should not be too difficult to make it sustainable, and expected that they will be able to obtain other funds and subsidies for its further development in the future.
Source: Nov and Dec 2021 Combined Issue